Featured Offer
Furry Creek Under New Ownership
GolfBC Announces Change of Ownership of Furry Creek Golf & Country Club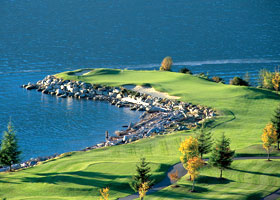 More Details
Course Rules & Etiquette
Local Rules
(RCGA Rules govern all play, except where modified by local rules)
Yardage markers are located on all sprinkler heads and are measured to the centre of each green.

GPS defines pin location and yardage on GPS is to the pin

Out of Bounds - Defined by white stakes and property fences.

Drop Areas - Provided on holes #1,6,7,11,12 & 14. We encourage you to use these areas as they help reduce delays.

Free Relief - (one club length no closer to the hole) Staked trees, flower and shrubbery beds, stone retainer walls, paved cart paths and roadways. Balls deflected by power lines (#10) must be replayed - no penalty.

Courtesy of Play - Golf carts must stay on paved paths at all times, unless otherwise noted.

In the interest of all players, please play without delay.

Furry Creek recommends a pace of play of 4:30.

Please remember the 3 R's. REPLACE divots, RAKE bunkers and REPAIR ball marks.

Proper golf attire is required at all times.