Featured Offer
Furry Creek Under New Ownership
GolfBC Announces Change of Ownership of Furry Creek Golf & Country Club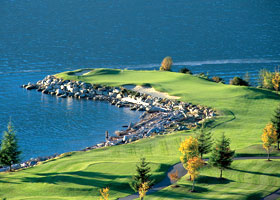 More Details
Meetings & Banquets
Beauty, scenery and ease are part of the package
Surround yourself in beauty and ease when you choose Furry Creek for your meeting or banquet. Just a 35-minute drive from Vancouver, Furry Creek offers your guests awe-inspiring panoramas of coastal scenery, delicious West Coast cuisine, and unparalleled service to set them at ease. Our stylish Clubhouse is fully equipped for special events and offers three customized banquet rooms to suit all needs, from intimate party spaces to banquets of up to 130 diners. Entrust the details of your function to our planners, and free yourself to relax and enjoy your special event.
Our Banquet Rooms
Each menu is prepared to suit your needs. Should you require a customized menu, we would be more than happy to work with you to ensure a successful event. Depending on the function, Furry Creek offers 3 different rooms to choose from:
Creekside Room - Set apart from the main facility by a glassed-in hallway, this 800 square foot room, overlooking the tumbling waters of the waterfall at Furry Creek, features a private bar and a massive stone fireplace. It is the perfect setting for small meetings and parties.
Pacific Banquet Room - Most of the tournament and wedding banquets utilize this banquet room complete with a dance floor and two adjoining patios, which comfortably seats up to 130 people.
Evergreen Room - On the mid-level of the clubhouse, this 800 square foot room serves nicely as a private meeting space with a glass wall adjoining to yet another patio.
Information & Contact