Featured Offer
Furry Creek Under New Ownership
GolfBC Announces Change of Ownership of Furry Creek Golf & Country Club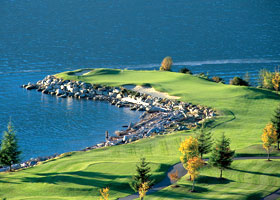 More Details
Closing Dates*
Furry Creek: Oct 22 (under NEW OWNERSHIP)
Gallagher's Canyon/Pinnacle: Oct 31
The Quail & Bear: Oct 29
Nicklaus North: closed
Mayfair Lakes, Olympic View, Arbutus Ridge, and Wailea are open YEAR-ROUND
Notices
There is a NO SMOKING on course policy in effect at our BC courses, due to extreme fire hazard.
Online tee time bookings at Wailea Golf Club through the GolfBC website are currently unavailable. Click here to be redirected to Wailea Golf Club's website.
PROVINCE GOLF CLUB - Please note, GolfBC courses are not participating in the Province Golf Club program. We are proud to support the NGCOA Golfer's Red Book, with over $17K in savings. »details
*Closing dates are weather dependent, and may change.
Book a Tee Time
GolfBC's online booking engine features:
Book multiple GolfBC courses in one transaction, with the shopping cart feature (pre-payment not required, you will be charged upon check-in)

Ability to create a profile to make your return visit easier and quicker.
Cancellation Policy
Cancellations or reductions to size of group require 24-48 hours notice (varies by course; refer to confirmation email), or will be subject to the full charge to the credit card on file. If you booked your tee time online and wish to cancel, refer to the cancellation link in your confirmation email or at the bottom of the
tee time booking page
, or call the golf course at 1.800.446.5322 for assistance.
Check-in
We ask that you arrive at least 30 minutes before your tee time to allow time to check in and make your way to the first tee. All tee times booked online will be guaranteed with a credit card, with payment due upon checkin. All green fees are subject to 5% GST (carts subject to 5% GST + 7% PST), which will be added at check-in. GolfBC does not charge a booking fee for online reservations.
Group, Tournament & Wedding Inquiries
Online tee time bookings are powered by GolfSwitch® and are made through a secure interface with a credit card. Your credit card will serve as the guarantee for the tee time. Final payment will be made at the golf course when you check-in; rates are subject to applicable taxes (rates posted for courses in Canada are in Canadian Funds, and for courses in the USA are in US Funds) which will be added at check in. After you have made your reservation, you will receive a confirmation e-mail message indicating your reservation date, time and confirmation number.